Archive for the 'modern + minimal' Category
August 30, 2010
I think that moms need business cards too… so we created a few calling card designs.  Calling cards were used in the old days for individuals to leave their information when the person they were visiting wasn't home.  It was a great way to make sure they knew their friends had come to call.  Today, calling cards work great for trading contact information for business, playdates, and meeting new friends.  Each card is custom designed just for you! E-mail me at kelsey@flossystylishdesign.net to start the ordering process.
April 1, 2010
Colleen and Brad were married at the Desert Botanical Garden in March.  Colleen shares my love of paper products, so we had a lot of fun designing her invites, programs, escort cards, etc.  They were definitely modern and fun, but they were very clean and elegant at the same time.  We had a circle theme throughout… even the menus were round!   The programs had a circle die cut in the front with their monogram showing through. 
The day was flawlessly coordinated thanks to Sandy of In Awe Weddings.  I was able to see the finished product since I assisted with the wedding that day!  Thanks to Cristi Owen for sharing her amazing photographs.  She did a great job and was really fun to work with!
March 11, 2010
One of our Brides recently purchased postage from Zazzle.com.  She is doing a vintage Hollywood feel for her wedding and decided to find stamps to enhance her invitations.  She found some really cool RSVP stamps for her RSVP postcards as well as for the outer envelope.
If you have a tight paper budget, it's probably best to stick with the options at the local post office.  After shipping, Zazzle stamps are usually double what they cost at the Post Office. However,  Zazzle has TONS of fun options, and you can design your own.  They offer them in all different postage amounts as well.  They also have cute baby shower and birthday party stamps!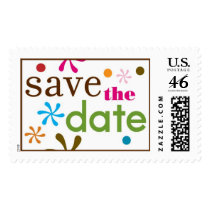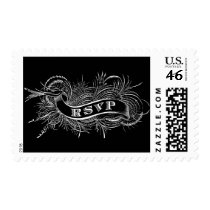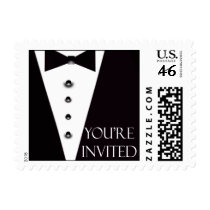 March 3, 2010
My childhood Best Friend married another good childhood friend, Matt, on October 10, 2009.  I was not only honored to be the matron of honor, but also to be the provider of their paper products.  We created some really amazing items for her.  It was a beautiful wedding, and the reception was held at the Kansas Cosmosphere.  It is an amazing venue!  We created booklet programs which were full of fun information about Kati & Matt.  They also wrote sweet notes about their bridal party.  They had a runner with a monogram we created, and  really elegant menus as well.   Thanks to Gaylon Bartel photography for the images.  They are amazing photographers!  They took photos of the awesome wedding invites, so I will have to try to get some of those!
August 5, 2009
I love sending cards for no reason or for what I like to call "random acts of weirdness". We tried to come up with some fun events to which you may want to invite friends or family! You could also use the "Bun in the Oven Design" to congratulate a friend. I designed these as the fronts of 4×5 folded cards. Feel free to post any other ideas you have for funny cards! E-mail me at kelsey@flossystylishdesign.net to order your own set of custom 4×5 cards and envelopes!