Archive for the 'Babies & Children' Category
September 2, 2010
I've had the pleasure of creating quite a few baby shower invitations recently.  Here are a few of my favorite designs.  Some of these were placed in a pocket, but I will hopefully have photos of them in the near future.  I will post the electronic designs for now.
August 24, 2010
Don't forget to schedule your Christmas photo sessions!  Photographers fill up quickly once the weather starts to cool down. The earlier we can start on Holiday Cards, the better!  Here are a couple of my favorites from last year. Feel free to e-mail me at kelsey@flossystylishdesign.net for photographer recommendations in your area. 
March 11, 2010
One of our Brides recently purchased postage from Zazzle.com.  She is doing a vintage Hollywood feel for her wedding and decided to find stamps to enhance her invitations.  She found some really cool RSVP stamps for her RSVP postcards as well as for the outer envelope.
If you have a tight paper budget, it's probably best to stick with the options at the local post office.  After shipping, Zazzle stamps are usually double what they cost at the Post Office. However,  Zazzle has TONS of fun options, and you can design your own.  They offer them in all different postage amounts as well.  They also have cute baby shower and birthday party stamps!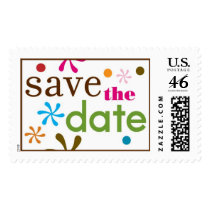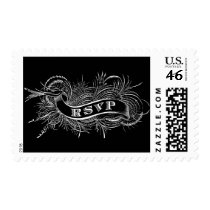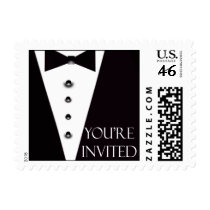 October 17, 2009
I love Christmas! I love checking the mail every day to see the beautiful Christmas cards from friends and family. It is Fall (well hopefully after this weekend, the triple digit temps will go down here in AZ) and that means it is time to take family portraits. Whether you will have your photos taken by a pro or you will take them yourself, you will want a good one for your Holiday cards. I have clients that love sending cards before Thanksgiving, while some send them for New Year's. December is a crazy month, so I highly recommend an early start. I included a preview of a couple of my designs. We can create an elaborate layered card, a tri-fold card with multiple photos, mini photo albums, or a simple and cost-effective custom photo card.
A huge thanks to Emily of EME Photography for the photos for my Christmas card samples!
August 26, 2009
With so many friends and family welcoming new additions, I have been inspired to design a few more baby annoucements! Here is a sneak peak of the new baby line from Flossy called "Tumbleweed". Feel free to e-mail me at kelsey@flossystylishdesign.net for more info. Thanks to EME Photography for the oh so cute photos.