Archive for the 'announcements' Category
March 11, 2010
One of our Brides recently purchased postage from Zazzle.com.  She is doing a vintage Hollywood feel for her wedding and decided to find stamps to enhance her invitations.  She found some really cool RSVP stamps for her RSVP postcards as well as for the outer envelope.
If you have a tight paper budget, it's probably best to stick with the options at the local post office.  After shipping, Zazzle stamps are usually double what they cost at the Post Office. However,  Zazzle has TONS of fun options, and you can design your own.  They offer them in all different postage amounts as well.  They also have cute baby shower and birthday party stamps!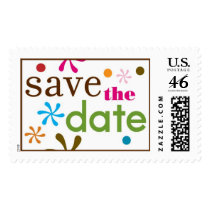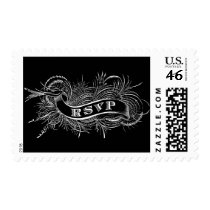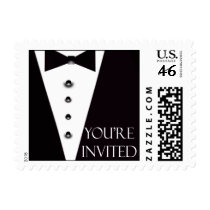 November 5, 2009
One of my favorite new clients and I worked to design these AMAZING invitations. She needed to include a lot of information for a weekend full of events, so this design worked really well. We wrapped the box in a beautiful gold ribbon to create the finished look. I LOVE these.
Thanks Emily of EME Photography, for the photos.
August 26, 2009
With so many friends and family welcoming new additions, I have been inspired to design a few more baby annoucements! Here is a sneak peak of the new baby line from Flossy called "Tumbleweed". Feel free to e-mail me at kelsey@flossystylishdesign.net for more info. Thanks to EME Photography for the oh so cute photos.
August 5, 2009
I love sending cards for no reason or for what I like to call "random acts of weirdness". We tried to come up with some fun events to which you may want to invite friends or family! You could also use the "Bun in the Oven Design" to congratulate a friend. I designed these as the fronts of 4×5 folded cards. Feel free to post any other ideas you have for funny cards! E-mail me at kelsey@flossystylishdesign.net to order your own set of custom 4×5 cards and envelopes!
June 9, 2009
Sarah and Jason were married on May 2nd in Michigan.  Sarah and I worked across many miles to create invitations, programs, placecards, a seating board, menus,  thank-you notes, favor cards, etc.   For their invitations, we used a black pocket, ivory linen papers with fuchsia accents, and we placed a small rhinestone on the flourish on the inside of the invite.  They used their monogram as a front label and also throughout the other paper products.  We created custom menus with black and fuchsia borders.  Their programs were elegant booklets with the ivory linen paper and black covers.  We placed the monogram on the front and finished them with a fuchsia ribbon.  They used the "D" from their monogram to create a really cool ice sculpture as well.   I have missed the many long e-mails we sent back and forth, but Sarah happily reported that they had a fantastic wedding day. Thanks to JS Photography for the photos!